To Survive, You Don't Need Toll Booths – Deputy Information Minister To Hawkers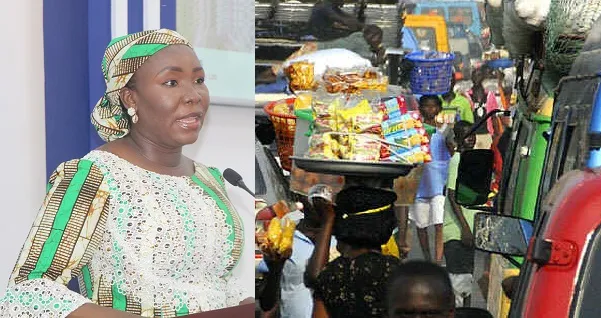 Deputy Minister of Information, Fatimatu Abubakar has pleaded with hawkers around tolling points nationwide to remain calm, as the removal of tolling points on public roads and bridges will not affect their livelihood.
On her accord, hunger in a way is a gift to these traders as that is where they make their monies from. She believes in as long as there is hunger, these toll hawkers will always make ends meet whether or not tolling points exist.
"I plead with hawkers around tolling points to remain calm and know that so far as we are alive, they will survive. There has always been hunger and the demand to satisfy hunger will always exist and their businesses will be patronized one way or the other. Their market will be redirected to different areas one way or the other. Not being able to sell at tolling points shouldn't be an issue," she told Don Kwabena Prah on Happy98.9FM's Epa Hoa Daben political talk show.
Fatimatu Abubakar believes the creation of jobs for hawkers is another conversation that needs to be treated separately from the conversation around the removal of toll booths. "We are diverting from the real issues now as the tolling points were not created for hawkers. They were created for drivers and the attendants there. We need to focus on them rather as the institution of tolling points was not meant to create business for hawkers."
Finance Minister of Ghana, Ken Ofori-Atta announced the elimination of toll booths on all public roads and bridges.
With toll booths having been introduced in Ghana decades back, the Finance Minister admitted that although they have helped maintain and build roads, they have become more of an inconvenience and contributed to environmental pollution, hence the decision to remove them from all public roads.
Presenting Ghana's 2022 Budget to parliament, Ken Ofori-Atta, shared, "For decades after decades, the government has imposed and maintained tolls on some public roads to raise funds for road construction and maintenance. Over the years, the tolling points have become unhealthy market centres, led to heavy traffic on our roads and lengthened travel time from one place to another and impacted negatively on productivity."