"Bring It Back"– Lady Calls MTN Office Over Zone Bundle, Begs Call Representative [Watch]
The decision of telecommunication giant, MTN, to suspend a popular internet data package known as the MTN zone bundle has sparked a huge outcry among users of the network, with many calling for it to be reintroduced.
As subscribers of that particular internet data package continue to lament over the move by MTN, a Ghanaian lady decided to tackle the issue head-on as she called the office of the telco giant to seek answers.
In the video on TikTok, the young lady who looked visibly distraught in a conversation with a customer service representative was told that the MTN zone internet data package was temporarily unavailable due to a technical challenge.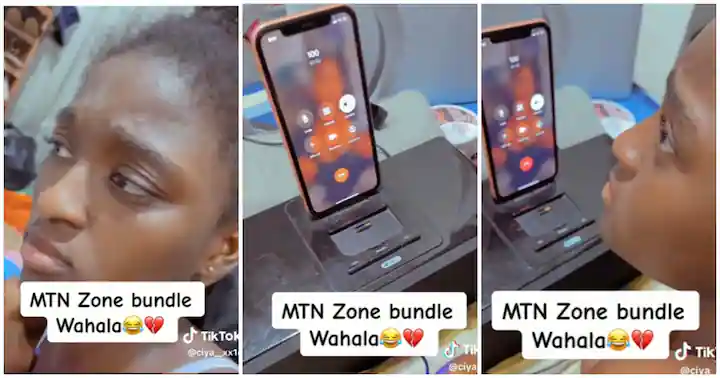 Although it was explained to her that there were other data packages she could choose from, the lady remained adamant and insisted on the MTN zone bundle, saying it was of importance to her.
"Tomorrow is my birthday and I wanted to browse online very early in the morning, so please have mercy on me and bring back the MTN zone bundle."
She also revealed that the other packages were expensive hence her decision to subscribe to the MTN zone bundle."
"The *138# data package is inadequate and also the *141# is very expensive, I can't spend 10 cedis on data package every day. I haven't eaten this morning."
She concluded her call with a customer service representative by appealing to MTN to address whatever challenge was affecting the zone bundle and get it back as soon as possible.
Watch the video below: