We Are Not Fools To Accept 7% Of Our Own Money While You Take Over 70% – Gyampo Fires Akufo-Addo
A political science lecturer at the University of Ghana has slammed the Ghanaian government for raising public sector workers' salaries recently.
Ghanaians, according to Gyampo, we are not "fools" to see the government raise Ghanaians' salaries by only 7% while the government's agencies that look after the country's resources take over 70%.
He also stated emphatically that unless there is fairness in the country, there will be no industrial harmony. He supported his claim by citing Article 71 of the Public and Servants Acts.
Professor Gyamfo wants Ghanaians' payment structures to be more equitable in order to maintain peace in the country.
This comes after the government hiked public sector employee salaries by 7%. The previous proposed increment rate was 4 percent, but it was increased to 7 percent this year.
Ignatius Baffour Awuah, Minister of Employment and Labour Relations, made the news at the Ghana National Association of Teachers (GNAT6th )'s Quadrennial National Conference in Kumasi.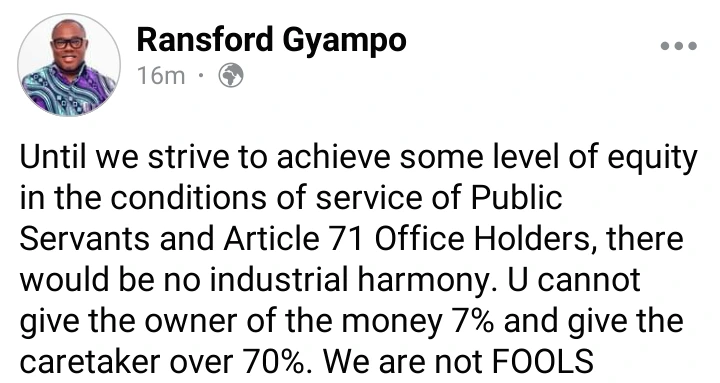 Source: GhanaFeed.com