Tackle Bawumia For Lying – Bridget Otoo To Critics
Popular Ghanaian freelance journalist Bridget Otoo has advised the populace not to take offense at her for simply reporting the rise in cement costs.
She argued that Ghanaians ought to direct their ire at Dr. Bawumia rather than themselves since he misled them about the cedi.
She wrote the following her Facebook page:
"You are not mad at Dr. Bawumia for Lying to you about the cedi? You are not mad about the government letting the cedi cross 10 cedis? That businesses are struggling? You are mad at me for reporting the fact that cement prices have gone up by 7-8 cedis?"
Was I the one who told the cement companies to increase a bag of cement by 7-8 cedis? Or am I the president of Aboboya association who tells them to charge 2-4 cedis for a bag of cement? Bridget Otoo quizzed.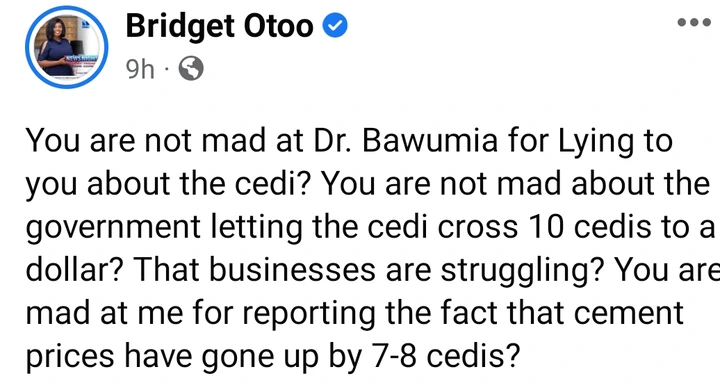 She asserted that, the people should know where to place their anger because when you go to the filling station or go to buy cement, they don't ask for your NPP card!
"Yes cement prices is hitting 80 cedis, and it's poor leadership that has brought us here! Make your family proud and for once, think for yourself! " She advised.
Background
The comments of Bridget comes as result of some criticisms she got from fans after posting yesterday that fuel prices have increased by 7-8 cedis. She added that people should expect to buy it for GHC 80.
Prices Of Cement In 2016
The grade 42.5 of Diamond cement was being sold at GH¢27.8, while the same brand grade of 32.5 was priced at GH¢26 in 2016.