Over 34,000 Chinese Nationals Have Ghana Card – NIA
Over 34,000 Chinese nationals have registered for the National Identification Card also known as the Ghana card, the National Identification Authority (NIA) has disclosed.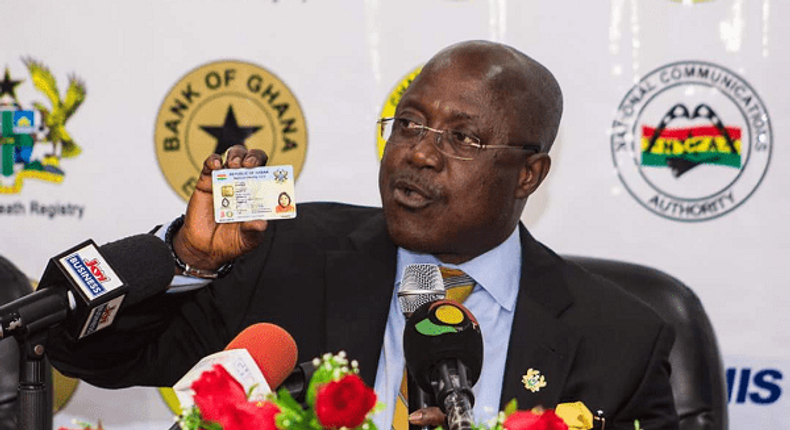 According to the Chief Executive Officer Professor Ken Attafuah, the Chinese citizens acquiring the Ghana card makes the highest country among the over 200 hundred countries whose nationals are in the country.
He said over two hundred countries whose nationals are in Ghana with a total registration of 161,076, and Chinese nationals are leading with over 34,000 of them registered.
Addressing the press, Prof. Attafuah said China has the highest number of citizens with non-citizen Ghana cards with a total of 34,712 cards issued to them, 22 percent of the 161,007 citizens from 202 foreign countries.
Nigerians constituted the second-largest citizens with non-citizen Ghana cards with a total of 25,873 cards, while 20,110 bearers were citizens of India.
He stated that Germans nationals have 4,329; Lebanon, 4,324; United Kingdom (UK), 4,133; South Africa, 3,194; 2,222; Cote D'lvoire, 2,150 and Gabon, 1,958 cards.
Prof. Attafuah indicated that as of September 15, 2022, a total of 17,163,081 people had been enrolled in the NIA system, with 16,627,326 cards printed, and 15,869,026 cards issued.
This comes after a Chinese national Aisha Huang, nicknamed 'galamsey queen' applied for a new Ghana Card with the name Ruixia Huang.
The NIA explained the circumstances under which notorious Chinese galamsey kingpin Aisha Huang received a national identity card despite being illegally resident in Ghana.
The Authority explained that she had renewed a card she registered for in Nhyiaeso, Kumasi as far back as February 26, 2014.
She [Aisha Huang] registered under the Foreigner Identification Management System (FIMS), the NIA said.
In a statement issued by its Acting Head of Corporate Affairs, Abudu-Abdul Ganiyu, on Tuesday, September 6, 2022, the NIA disclosed that En Huang, as she is known in its system, went to a registration centre in Tamale in August to secure a new card.
She wanted to register with the name 'Ruixia Huang', date of birth as November 7, 1975, and Passport Number EJ5891162.