Finance Minister's New Look Raises Concerns Among Ghanaians [Photos]
A suppose picture of the Finance Minister, Mr. Ken Ofori Atta looking all different and unrecognisable has raised so much concerns amongst many Ghanaians, particularly social media users.
He is supposedly seen a group photograph with the President Nana Akuffo-Addo. The Finance Minister in his usual long white apparel with his fingers placed in front of him interlocking each other, now looks quite darker and fatter with bigger cheeks than we have always known him to be.
This has raised many concerns from some social media users with many asking if truly the person in the photograph is the Finance Minister. If indeed the person is the Finance Minster then he surely is looking extremely different because his stomach has eventually gained some weight as well.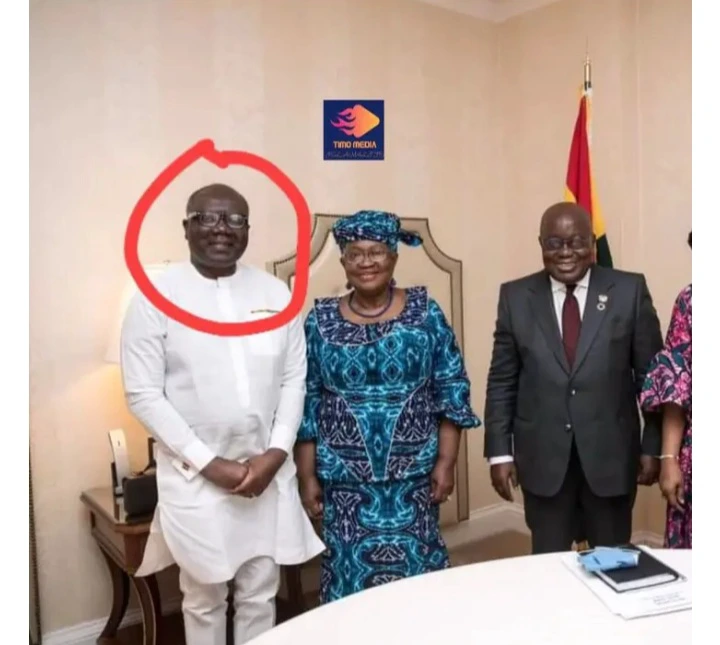 In the month of February this year 2021, the Finance Minister was announced to have flown outside outside the country to the United States for what the Ministry of Finance termed as "special medical review". "After recovering from Covid-19 last December, Mr. Ofori-Atta has had medical complications which doctors advise, require further interventions not currently available in Ghana".
A statement from the ministry said. This delayed his scheduled meeting to appear before the Appointments Committee of Parliament which was to be held on 16th February 2021.
Whiles a section of Ghanaians think he's not the one in the picture, others are of the view that he's definitely the one, just that he's either not feeling well or simply under a curse from Menzgold customers. Others are suggesting that he'd probably die soon since the wicked must not live. Another person thinks he's even looking more like the Vice President, Dr. Bawumia.