Blogger Arrested, Charged Over Facebook Posts
Police at the Bolgatanga District Police Station in the Upper East Region Wednesday, December 29, 2021, arrested a blogger and student journalist, Joseph Dumolga known by the Facebook username 'Joe Elom Dumolga-Blogger' for publications on Facebook about an ongoing beauty pageant in the region, Miss Upper East Ghana.
The blogger who is also a student at
Yet another post had the blogger question the modus operandi of the event organizers, who according to the blogger, have made artworks of the contestants and started soliciting for votes from the public without any public performances. He questions the basis on which the organisers want the people to vote.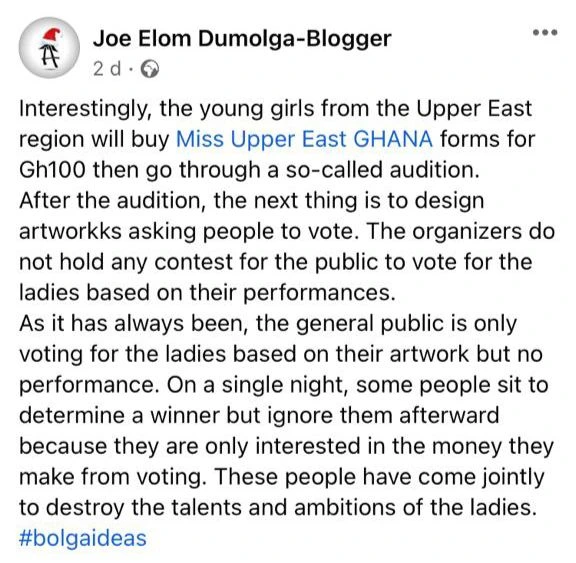 The organizers say they will soon issue a release to address all the allegations that have been levelled against them, but for now, they say their focus to get this year's edition done.
But information available to 3news.com is that there are ongoing negotiations to 'compensate' the previous winner for missing out on the promised Dubia trip.
Grand Finale of Miss Upper East Ghana
Meanwhile, the grand finale for this year's edition of the pageant is scheduled for Monday, January 3, at the GNAT Hall in Bolgatanga. Six finalists representing the some districts in the region are expected to battle it out for the ultimate. According to the organisers, the finalists – Sakina (Garu), Lamisi (Bawku Municipal), Berry (Talensi-District), Kiana (Bolga Central), Ndepoka (Bawku West District) and Yinime (Bolga East) – are ready to "display our beautiful rich culture and traditions".
The winner, according to the organisers, will walk away with a Ten Thousand Ghana Cedis (GHS 10, 000) cash prize: Seven Thousand (GHS 7,000) cash and Three Thousand (GHS 3,000) start-up cash for her project. She will also get a five-star treat, a trophy, a tabletop fridge, blender, toaster, rice cooker, kettle, and an iron.
The first runner-up will get a laptop, Two Thousand (GHS 2,000) start-up cash for her project, and souvenirs from sponsors.
The second runner-up gets a 42 inch Flat Screen Television set, One Thousand (GHS 1, 000) Cash for her project, and souvenirs from sponsors.
There are also prizes for the 3rd and 4th runners-up.