A/R: Chief Locks Up Local Revenue Collection Offices Over Neglect Of Community In Pakyi
In an effort to protest what they see as government neglect of the region, the traditional council of Pakyi Number 1 and 2 near Kumasi today organized an exercise to lock up local revenue collecting offices in the area.
The protest was started as a result of poor roads leading to the community center, a shortage of restrooms at the market, and overflowing garbage dump sites.
According to Nana Agyenim Boateng, a sub-chief of Pakyi Number Two, the government has consistently broken its numerous commitments to them.
The Pakyi-2 local revenue office was locked up by the local authorities in an effort to address their problems.
To express their anger with the Amansie West District Assembly, they fastened wooden slabs behind the doors and tied red cloths to the building.
Because to community negligence, the chief closes down the local revenue collecting offices.
Plans for demonstrations were announced by Mawerehene and Gyaasehene of Pakyi-2.
They assert that until their complaints have been addressed, the barricades won't be taken down. Productivity and economic possibilities are being hampered by the area's poor road conditions.
Kwame Boakye, a driver, claims he spends at least 500 Ghana cedis per week on auto upkeep.
Market activities have suffered as a result of unsanitary circumstances.
The traders are having trouble with this pile of trash close to the market.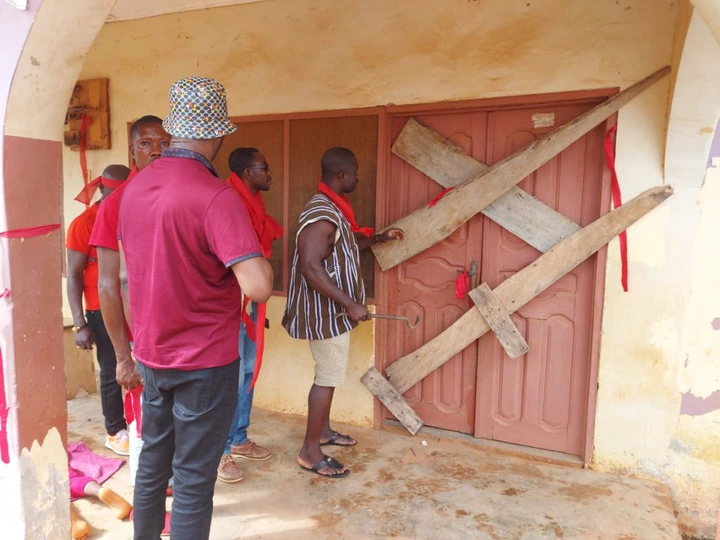 Fatima Antwiwaa, the market's queen, lamented the market's pungent odor and accompanying flies. Frank, a local, blames the squalor for his daughter's persistent illness.
Alex Donkor, an Assembly representative for the Area, claims that attempts to have the assembly address their complaints have been unsuccessful.